The focus for this release was on optimizing performance, improving member usability and addressing issues raised by clients and identified through internal testing.
This release note provides information on areas in the TMS that have significant changes, improvements, new features and technical updates. A brief description of each feature and improvement is listed below each title. Additional information is available in the User Manuals. Each client will be advised of their update date prior to the release through a Resolve ticket.
Please contact the Bluegem Customer care team if you have any questions on 08 9389 9800.
Sandbox site
The Sandbox site (www.trial5.bluegemexplore.com) is updated on a regular basis with the latest BETA build. This site will also be updated with the latest build come release time.
You may use this site to practice using the new features and functionality prior to incorporating them into your processes and procedures.
What's New
This release will include the following new features, fixes and enhancements.
New Feature Highlights
The features listed under this section are the most significant New Features.
Admin to Student Chat
We've installed a widget allowing you to communicate with your members when they log in to their student portal – we are using a third party tool called 'Tawk'.
Tawk is great because it is free to use and nearly 100% customisable. Many add-ons and upgrades can be purchased outside of Bluegem for your Tawk account including hiring agents and removing branding to make the widget 100% you.
The widget even records what page the student is on so you can monitor where they are and identify if they need any help – the widget is even available in the LMS Lite, allowing students to reach out during online training.
It's also fully customisable so you make it fit in with your site branding.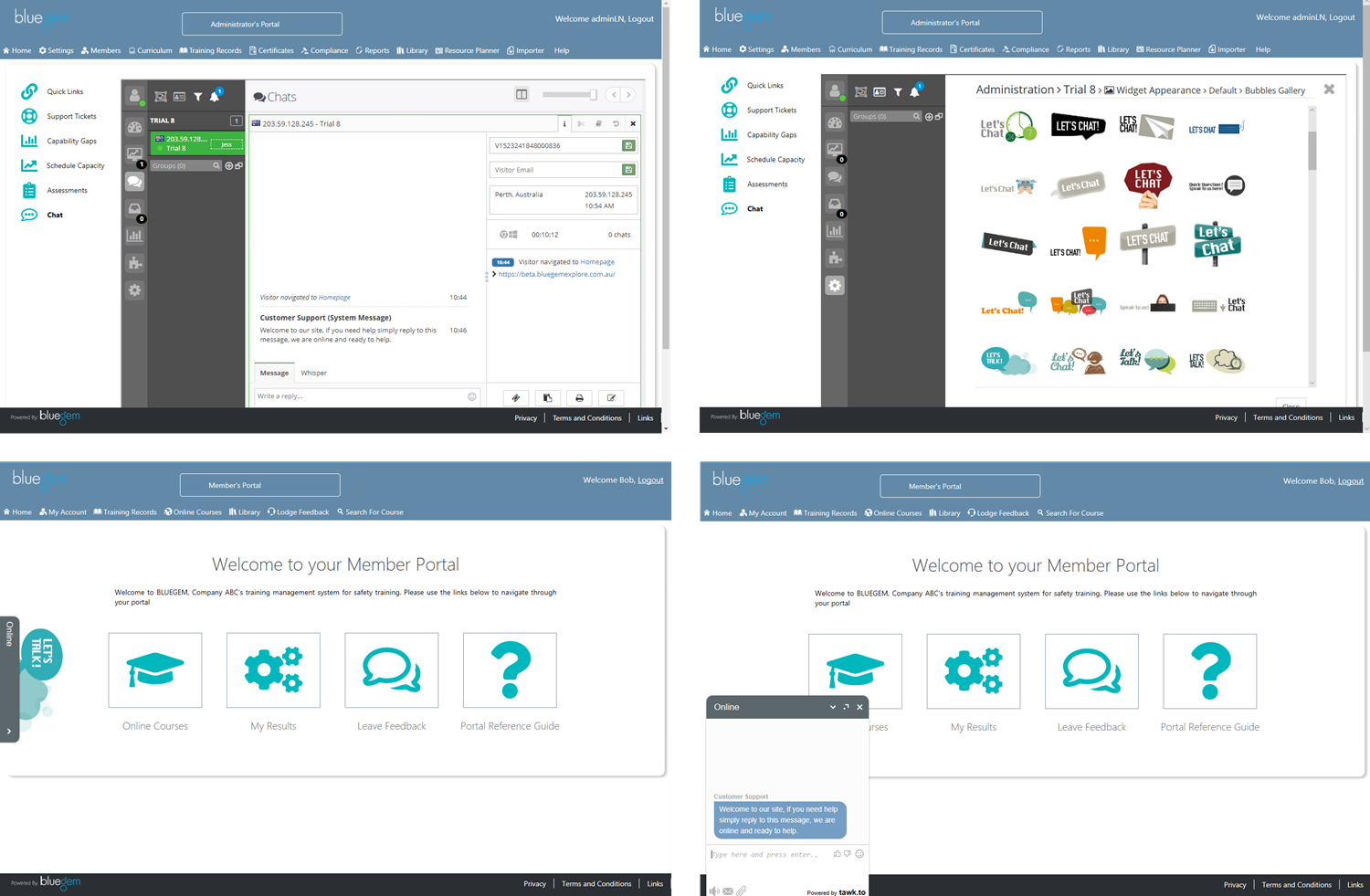 If you don't already have a Tawk account, sign up with a free account – you will be given a widget code –copy the unique id section from the code and go to Settings > Member Access > enable chat.
A text box will appear when chat is enabled for you to paste in your unique code. Once you've pasted in the code, scroll down and click save. Your Tawk account is now linked to your Bluegem student portal.
The Tawk dashboard can be accessed from a mobile device outside of Bluegem, any web browser or you can link to it from your Bluegem admin portal dashboard. (we've added a link to access the default dashboard on your homepage)
Bulk Marking Outcome identifiers for course schedules
The bulk actions option to mark outcome identifiers has been added to the Result Marking page – allowing you to mark a course schedule and pick multiple students at a time to update their outcome identifiers.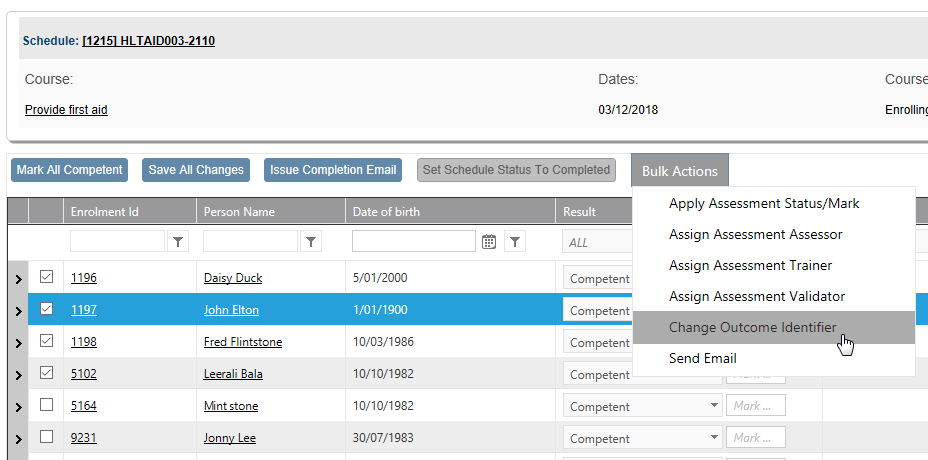 Ability to Generate and Edit Certificates
This feature has been added to help support the generation of non-certificate documents, wallet cards, application forms and what ever else you need to issue with student information.
When generate and edit is clicked, the certificate will be generated in Microsoft word – allowing you to modify the content before printing and issuing to the student.
The 'certificates' aren't auto-saved to their library when this is done because the purpose of providing this option is so that the document can be changed before the student receives it. You can save the document on your computer after editing and then upload to the students library manually if it does need to be stored in Bluegem.
When a document is issued from the Non AQF and AQF Short course certificate paths, the system will record the format that document was generated in (WORD or PDF).
Note: When a certificate is generated in Word – it can not be 'reissued' or 'reprinted'. You need to generate a new one. This is because the previous one may have been edited outside of Bluegem.

Configurable Admin Dashboard (Phase 1)
This release includes the ability to add a submenu to your 'home' page, this allows you to present information from external sources (or Bluegem pages) on your home page that can be quickly navigated to in one click.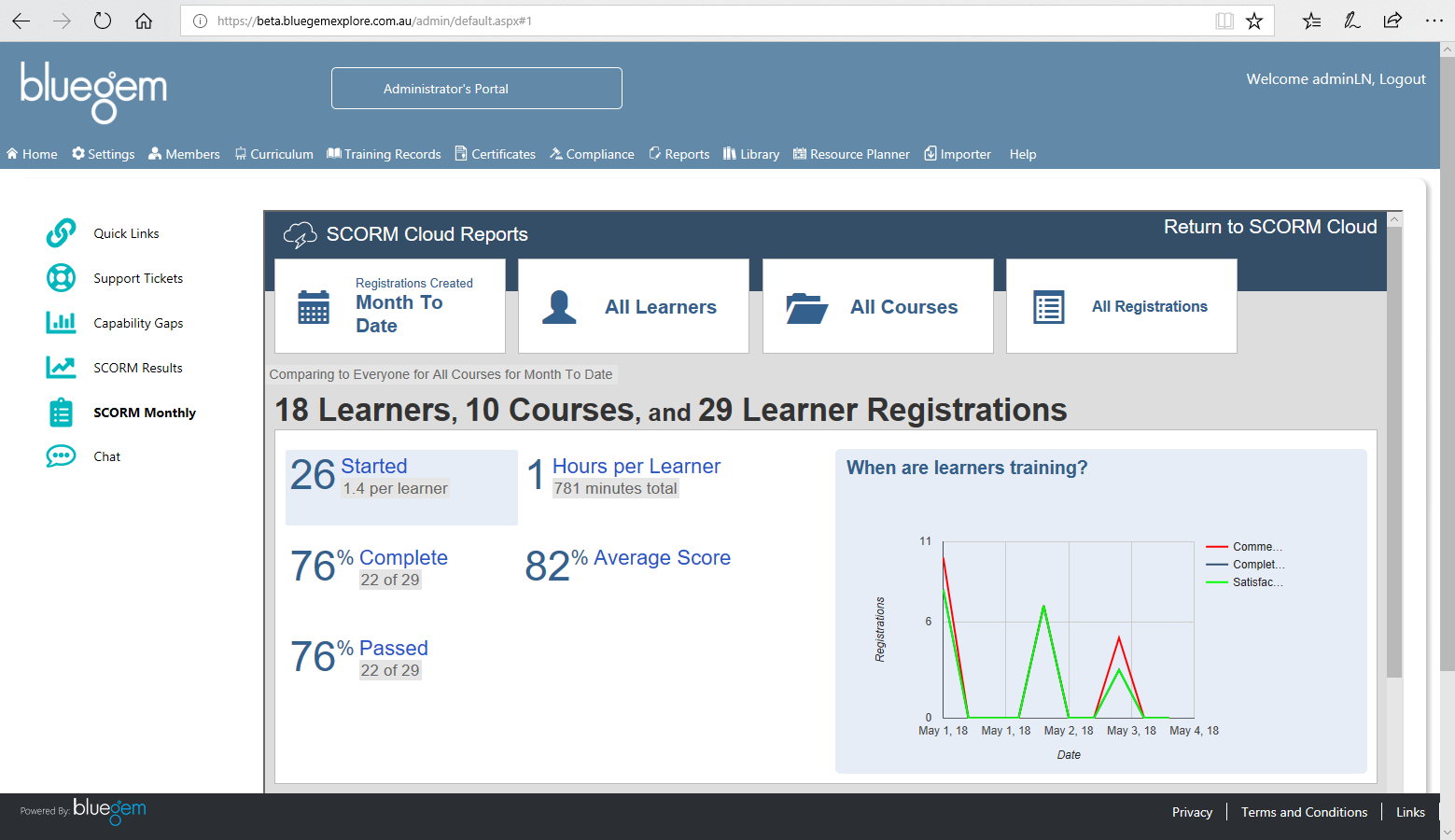 The menu is currently configured using some simple JavaScript. A default set of menu items have been added – you can change this whenever and as often as you like. Future releases aim to make this feature more admin-friendly.
Learn How to Configure your new Dashboard
Existing Feature Enhancements
These are improvements and behaviour updates made to existing features. It is important you read through these changes and adapt your current processes where required to accommodate the new logic.
Student Homepage Template
Some enhancements have been made to the student dashboard content editor – making it more flexible. We've designed a very simple template that uses icons and hyperlinks to help you provide clear navigation options to your students.
We haven't added this by default (we don't want to overwrite any pretty homepages!) – instead we've created a template and made it available for you to apply to the site yourself if you'd like to change things up.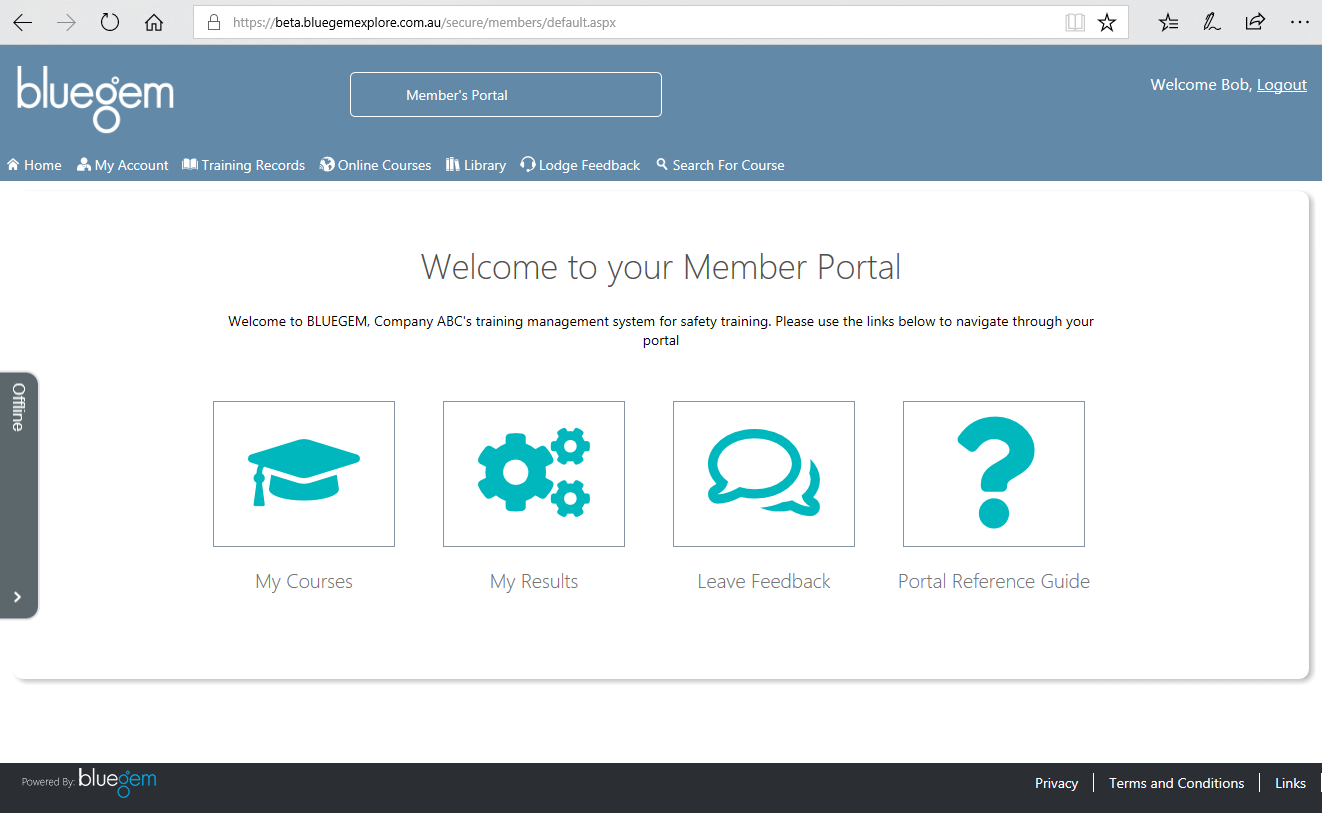 Learn about updating the homepage and get the template.
Trainer Portal
The trainer portal has had a bit of a revision and some improvements made along the way including:
Actions buttons added to schedules page
Removed the old method of marking attendance and direct to same user interface that admin has.
Update the access rights for trainers

When the setting in member access 'trainers can see other trainers tasks' is enabled, all trainers will be able to see the schedules and activities assigned to their colleagues.
When the setting in member access 'trainers can see other trainers tasks' is disabled, the trainers will only be able to see their own activities and schedules they are assigned to.
Trainers can add assessments to an individual student

The tasks calendar in the trainer portal has been updated to use the same control as the admin portal timetable.
The toolbar has been rearranged
The SQR has been tidied up to remove the drop down menu and library icon
Formal training plans have been hidden from personal details when logged in the trainer portal
Performance Improvements
The following pages have been optimised to initially load and function much faster and more efficiently:
Course Schedules
Personal Details page of a trainee
The people list – searching and sorting time has been improved by over 90%.
The time it takes to load and filter certificates In the certificate register has been improved.
Loading the result manager page
Audit log load time
Financial area
The old invoice templates, used to generate invoices prior to 2016 have now been removed from the user interface. Any legacy invoices that need to be reissued using these templates can still be issued with the old invoice template. The only difference is now you are not able to create and edit new templates for these invoices – they will be generated with the last selected template.
Training Profile
The training profile has been moved from the person edit page to its own page
Online Assessment Responses
After the last release, the online assessments responses window could take a while to load depending on the amount of data – the method to show the data has been optimised so that it loads within a second (or 2 if there is a large amount of data).
The export of online assessment results has been updated to provide more useful information – the export now shows the student name, date completed and assessment name.
Certificate Templates
A selection of new merge fields have been added to short course (AQF and Non AQF) certificate template data library including:
Custom field 2
Student title
Street suburb
Street postcode
Street state
City/town of birth (if stored when creating USI through Bluegem USI web service)
A Profile picture merge field has also been added to the NON AQF and AQF Short course certificate templates. This is to better support wallet card issuing. When using this merge field, it must be added to an image rather than a text box in the template.
The data program completed from the reported program details panel has been added to the Program QC and ROR template data libraries.
Compliance
The below changes have been made in regards to compliance
Quality Indicators
http://www.tac.wa.gov.au/registration/Reporting_requirements/Pages/default.aspx
Removed CCOS (not supported from 1st Jan 2016) from the Compliance menu
Removed CQR (not supported from 1st July 2017) from the Compliance menu
USI
The exemption from reporting a USI number for single day courses using the code SHORT lapsed on 31st Dec 2018, for more information on USI exemption codes, please visit: https://www.usi.gov.au/training-organisations/training-organisation-requirements/exemptions-reporting-usi

The wording for the 'single name' USI option has been updated to match the wording on the official USI website.
VSL (VET Student Loans)
The below changes only impact clients with the VET Student Loans additional module.
Added an Icon to show if an enrolment is marked as VSL reportable in the enrolments and assessments window
Added the loan liability for an enrolment in the enrolments and assessments window
Added a link to the students VLL and VEN data from the enrolments and assessments window
AVETMISS
Enhance validation messages to show student name
Update Error 3252 to only appear In error list from October – December. Shows as warning for rest of year.
Keep in mind – error 3252 tells you that you have non final outcome codes (usually 70) in your data that are not accepted in the annual submission. It is acceptable for interim (quarterly or monthly) submissions.
DET QLD Reporting
A few changes were made to DET reporting requirements. These were released to all QLD clients in early Jan.
https://training.qld.gov.au/site/docs-data/Documents/statistics/rto-data/qld-det-avet8.0-data-reporting-requirements.pdf
QLD RTO code reported in NAT120
New outcome identifier 65
Validation rule added if VET in schools flag is Y in NAT120 then a LUI must be in NAT80
Parchment issue date and number excluded in QLD NAT130
New funding code BW3 added under National code 11
SSVVCG Amendments
Few changes for Skills VIC reporting, VIC Clients were updated in Jan
http://www.education.vic.gov.au/Documents/training/providers/rto/Victorian%20VET%20Student%20Statistical%20Collection%20Guidelines%20-%202018%20v1.pdf
NAT30 uses AVETMISS 7 format not 8
Program status field added to reported program details panel
Leading 00's added to NAT120 file for Training organisation code
Additional fields added to NAT10 file
Technical Updates
For the tech savvy:
Stimulsoft Report Builder has been updated to V2018.1 (Read the Stimulsoft Release note here)
Telerik controls have been updated to the latest version
Socketlabs has been updated to the latest version
More API endpoints are now available including finalisation of enrolment, financials and modules
Azure AD Authentication (Office 365 integration)
User Interface Improvements
The following UI changes, that have not been mentioned elsewhere in this release note are listed below:
New LMS Lite homepage
The LMS Lite platform has been redesigned using bootstrap. The aim this enhancement was to:
Provide a better student experience
Improve the performance & load time
Provide greater flexibility around client branding
Make the design more mobile friendly
Some more small changes:
Migrate buttons from right of screen to left on major pages (phase 1)
Added a column in enrolments list to show icons instead of words for reporting options.
Front end enrolment sample for clients using API
Bug Fixes
The following issues have now been resolved.
Oops page editing schedule in partner portal
Unable to see partner's schedule in own portal
Feedback and issues alias used by default when no alias set – shows blank
Feedback and issues grammar fixes
Template issued count fix – it was considering assigned as issued
Allow apostrophes in all email address fields
Email logs showing in add new company page
Issue accessing certificate issue option through certificate page
Additional column appearing in RAPT text file
Online assessment responses for withdrawn trainees fix
If you have any queries, suggestions or feedback regarding the changes included in this release, please do not hesitate to get in contact via Resolve Ticket, Email customercare@bluegem.com.au or contact the office on 08 9389 9800
Thanks for Reading!
Jess - Bluegem Support
[1] If you have a UAT site this will be updated first and will need to be reviewed/accepted before your live site receives the update.