The focus for this release was on improving the overall user experience, expanding the API library and improving the system's security.
Release Overview
Bluegem Version 4.3 will be rolled from mid-January to mid-February 2019.[1]
Each client that we update will be given a date the update will occur. The process is Bluegem backs up your site, applies the update, smoke tests and then advises you the update has been completed.
Clients are requested to advise all users of the changes and to consult with the Bluegem Support team if any issues arise as soon as possible. Bluegem takes special care to ensure any specific client requirements are considered during the update.
The focus for this release was on improving the overall user experience, expanding the API library and improving the system's security.
This release note provides details on the areas in the TMS that have significant changes, improvements, new features and technical updates.
A brief description of each feature and improvement is provided under each feature heading. Additional information will be available in the Manuals shortly after the release.
Each client will be advised of their update date prior to the release through a Resolve ticket.
Sandbox site - trial5.bluegemexplore.com
Is updated on a regularly with the latest BETA build. You may use this site to practice using the new features and functionality prior to incorporating them into your processes and procedures.
Please contact support for the latest credentials.
What new
Below lists the new features and most significant changes included in this release
MYOB Module
We replaced the old ODBC writeback MYOB feature with a set of new export files suitable for importing into MYOB. The MYOB manual is available in the Online User Manuals now.
Read the MYOB manual here
API Module
Bluegem's API is a work in progress, every day we are expanding our API library.
Clients with the API module can benefit from the below new API methods:
Ability to create new invoices and payments
Ability to update an existing members details
Ability to update and existing enrolment details.
Ability to create activities
Ability to create and update activities
Ability to get resources
Ability to mark attendance (create and update attendance records)
Ability to create and update assessments
Ability to get assessments
Security & Password Handling
Password requirements have been updated to meet the 2018 security recommendations from several guidelines including ASCS, OWASP, ICO NIST and Microsoft. The changes we have implemented include:
Hashing passwords
Blacklisting common or known compromised passwords
Increased the maximum password length to 128 characters
Increased minimum password length to 13 characters for admin users
Password cannot contain part of the username or full name
Email template for sending user details no longer contains password - you will need to update your custom templates manually to remove this merge field.
NOTE: Clients using the API may need to update their Password validation checks in their log in and registration forms.

Admin Login as Member feature
Admin will have the ability to login as a Member (student, trainer, company) without the need to physically log out and then login as the Member with their username and password.
Admin select 'Log In As this person'
Select Yes, and click Login
Switch Back to Administrator Portal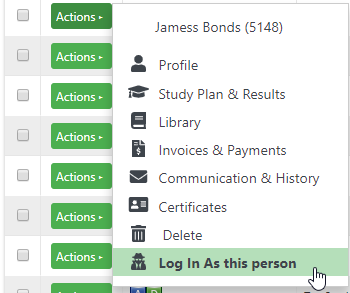 Home Page – Website design
The front end was designed with user experience and mobile compatibility in mind. It is built using Bluegem's own API and bootstrap technology, the components wrap and resize when viewed on a mobile device and the menu collapses to a hamburger icon.
Your organisation logo will be applied in place of the Bluegem logo pictured. The banner will be a solid colour to match your branding, if you'd prefer a banner please send a high-resolution image through and we will apply for you. Any changes after the initial branding may incur a cost. If you would like full control of the CSS and branding and have the IT skills to do so, you can purchase the Custom CSS module, giving you full control of the CSS.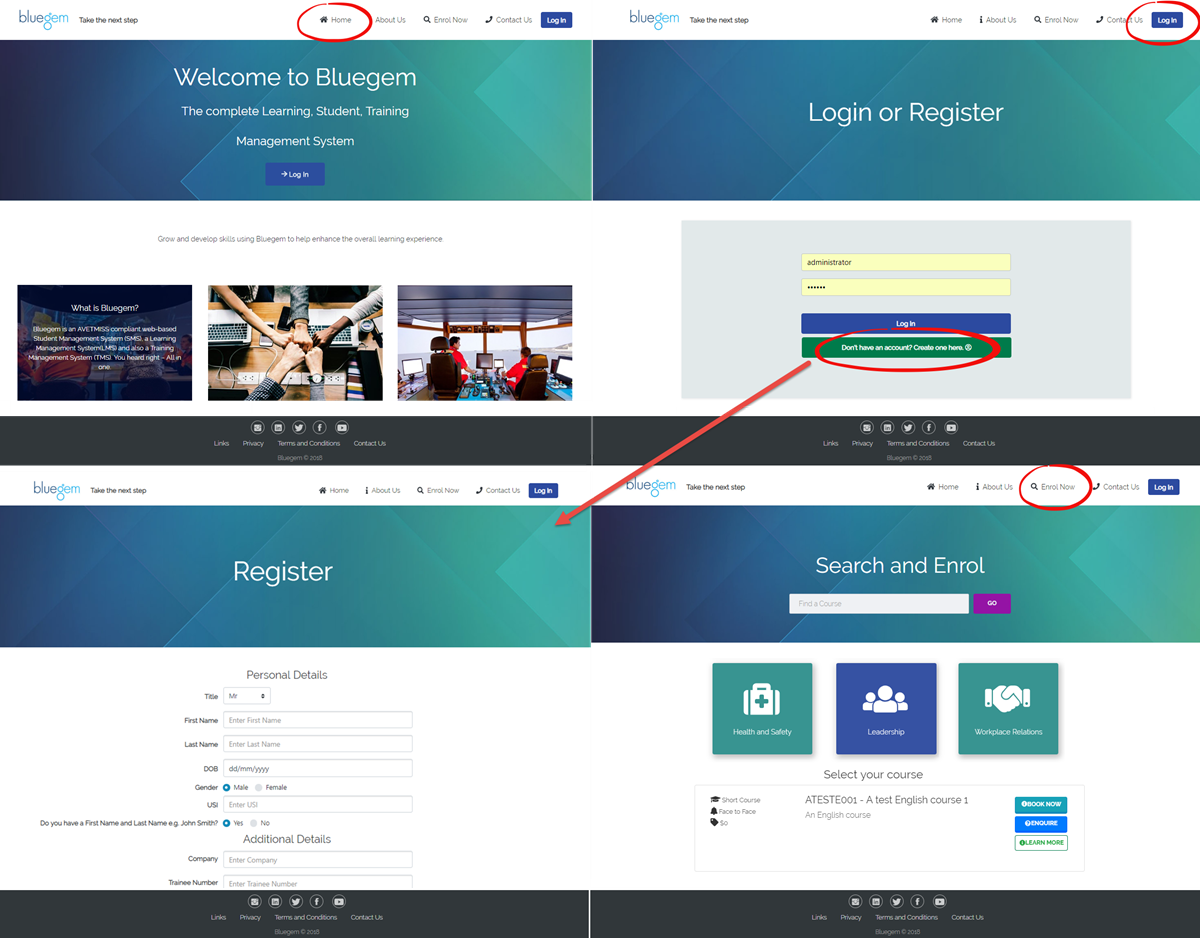 Learn about managing the homepage content here
Front-End enrolments
The front-end enrolment process has been completely redesigned to improve the user experience with a focus on mobile compatibility. The course/program enquiries now link to the contact page rather than an enquiry form.
Categories
Categories have been upgraded and now drive the find a course process. You can assign a colour and icon for the front of the category box, and provide a description to appear on the flip-side.
Learn about Categories here
Registration
The ability to request company membership has been excluded from the new front-end and the register as an individual process is now a single page form rather than a tabular form.
Custom front-end design
Along with a new course browsing experience and enrolment process, the home page of the TMS has been redesigned using mobile friendly technology.
Responsive design
Admin has control over content
Added social icons
Slideshow manager replaced with hover-over images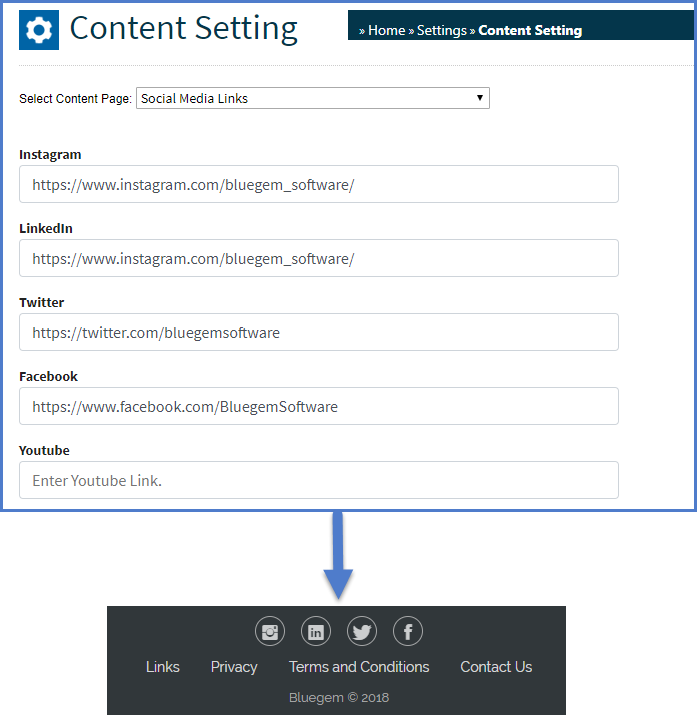 Learn about Social Media Icons here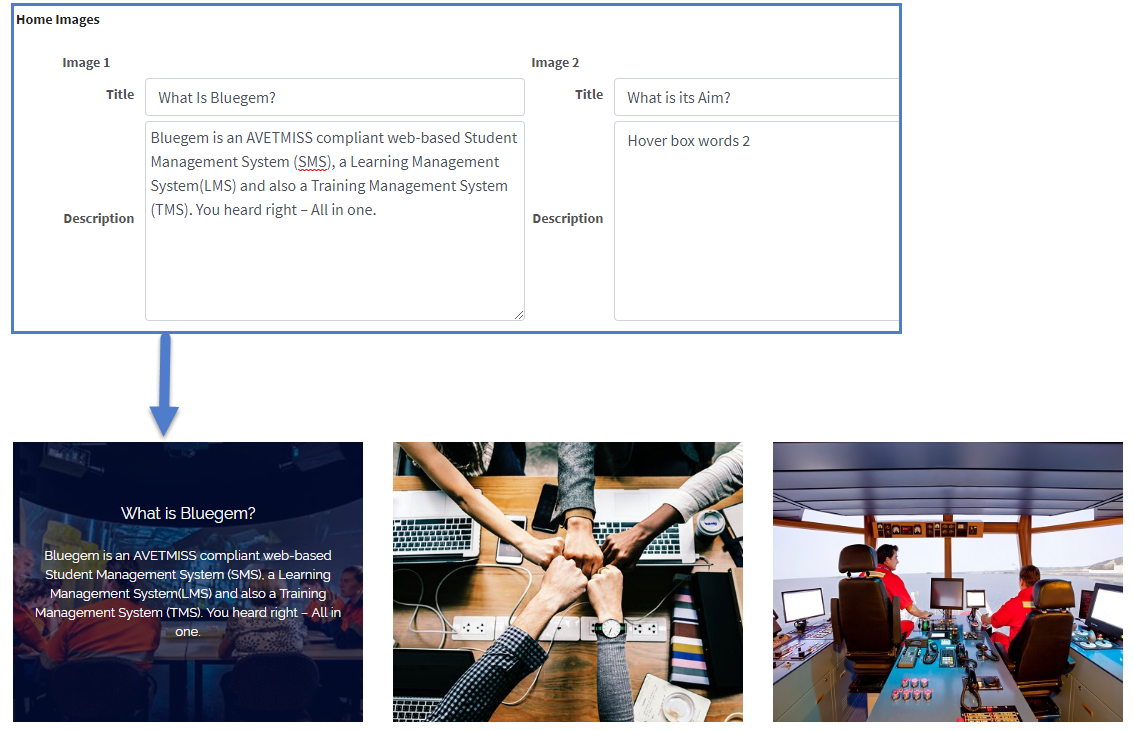 LMS Lite redesign
LMS Lite has been redesigned to improve the student's experience. Some clients will already have the BETA version in their site.
Semi-collapsible side menu - when click away it collapses
Bootstrap design - mobile friendly
Branded to match your colour scheme
Option to return to course list in top right
Admin managed content shows under 'Instructions'

Student Portal > Online Course View
We have updated the Online Courses grid in Members portal so that it is mobile responsive
The online courses grid takes up the full screen width, it auto resizes to fit the screen. We have also increased the line height so it's easier to launch and used font awesome icons rather than jpg images for the padlocks to improve performance.


Reset days for online enrolments after they have expired
When trainees are enrolled into an online course, their expiry date is calculated based on the module or course's number of days.
When a student surpasses the number of days without passing they are set to expired.
Previously, admin could only reset the days when the student still has a few days left, it has been updated so that the option to reset days can be used even after the student's days have expired.
This gives them back all the days based on today's date (the reset date).
Upload Profile Picture
The profile pictures were previously assigned by uploading an image to the student's assignments folder, then editing the trainee's profile and selecting the image from the drop-down menu. This process has been streamlined. Now there is an Upload button to simply upload the image directly and assign it.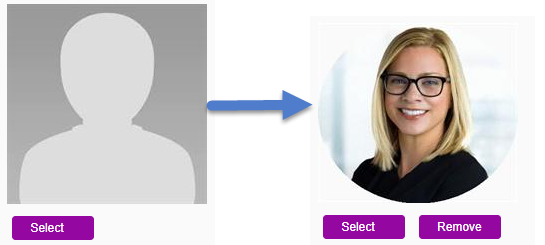 Finance
Standard line items can have a default price
Standard line items are created for goods and services you deliver, these can then be added to invoices by selecting them from a drop-down menu.
Line items can be given a default price, which can be changed once added to the invoice if required.

Apply an Account Number (Acct #)
Account numbers can be added to invoice line items, these are used in MYOB exports or for internal record keeping.
Read about MYOB and Account numbers here
Courses with a $0 value
Previously, for every enrolment, regardless of the course cost, an invoice would be generated. The new logic is no invoice will be created for any course with a $0 value.
Create a New Invoice from the enrolment

Admin can create an invoice manually if required under the enrolment's invoice and payments tab if one doesn't yet exist.
Purchase Order No. stored as the payment Reference No.
The purchase order number was only ever seen when making a payment with the type 'purchase order' selected. After it had been entered on this screen, it couldn't be found again. We've updated this behaviour, so the purchase order is stored as the payment reference number.
When the payment type is purchase order the payment reference field is called 'purchase order'.

Compliance
Skills VIC AVETMISS 8 changes
The Victorian State training authority has introduced a few changes for 2019 reporting. We have implemented the below:
Change 2019-11 Concession Type Identifier drop-down changes
Change 2019-12 Funding Source Identifier changes
Change 2019-16 Support new Funding Source Identifier – National values of 31 and 32
Change 2019-20 Specific Funding Identifier
Change 2019-21- Add a new value in the reason for the study drop down
Change 2019-23 If Unique Student Identifier is 'INTOFF', a client's Postcode must be 'OSPC'
https://www.education.vic.gov.au/Documents/training/providers/rto/Victorian%20VET%20Student%20Statistical%20Collection%20Guidelines%20-%202018%20v1.pdf
WA RAPT v3.3
Field label change for RAPT - TRS is now WAAMS. Increase the field characters to 10.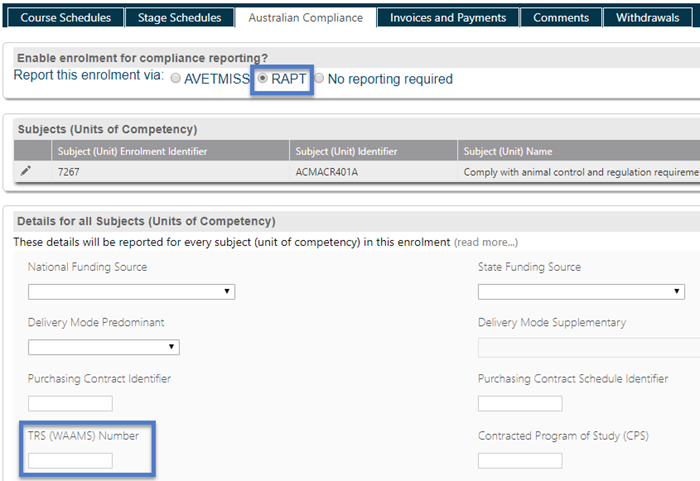 USI > Single Name Wording
Single name question updated to match wording in USI registry
The wording has been updated in the Personal Details page:

And in the new registration form:
Bulk Marking by Individual
When marking by individual, you can use the Bulk Action button to update multiple course, unit or assessment results for an individual student.
Checkbox column added to select courses
Bulk Actions button added with options to change outcome codes, course and assessment results
Actions button column to mark individual courses, mark attendance and issue certificates
Back to course list button to return to list after marking a course



Enhanced Features
These are features that existed in previous versions of Bluegem that have been upgraded
Template Editor
Training Record Reports > Attendance sheet/roll call
Can now be designed in the report builder
The attendance sheet is printed from the course schedules page, when filtering by stage schedule, the button to print the stage schedule attendance list appears.
When you click the button, it generates a report. Previously, this report could not be edited. We have made both the course and stage schedules attendance sheets editable under the template editor > training record reports.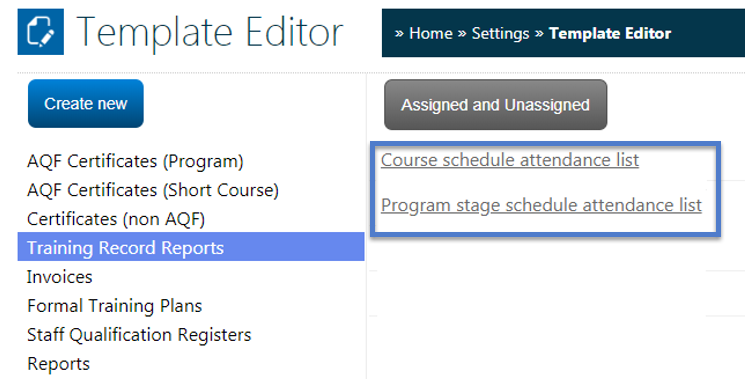 Attendance sheet
The generated attendance sheet/roll call now includes enrolments marked as accepted and completed
Previously, the attendance print-out didn't include enrolments with an 'accepted' or 'completed' status, it only considered approved enrolments. It has been updated to show enrolments with these statuses.
Resource Category page styling

The styling on the resource categories page hadn't been applied - this has been updated.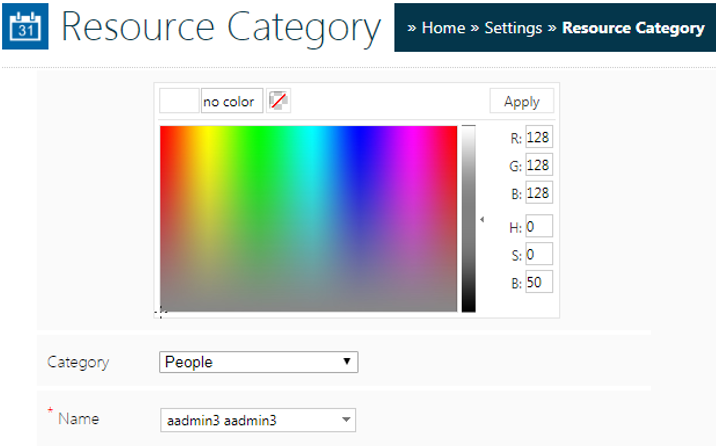 Validation messages from enquiries page

Previously, when replying to a student's enquiry, there was no successful message confirming your email had been sent. We have added validations to show errors, warnings and successful messages accordingly.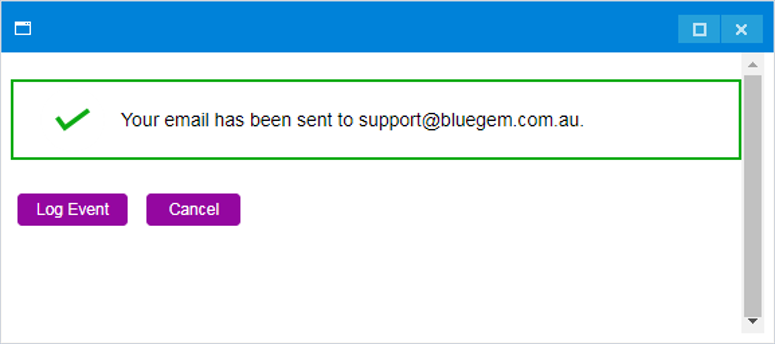 Removed warning messages
Removed warning messages in edit schedule if there are no enrolments
'Warning - there are people enrolled in this schedule, making changes might impact the existing enrolments'. This showed up even when there were no enrolments causing confusion. This now only shows when there are approved enrolments.
Enhanced program description editor

The program description editor includes all the formatting options like the other text editors throughout the system.

Allow multi schedule enrolment for a single course
Previously, only one schedule per course could be selected per enrolment during the short course enrolment process. We have removed this limitation and now multiple schedules per course can be added to the one enrolment.
Admin can edit the Enrolment date
The enrolment date field is now editable. The enrolment date is used as the default unit activity start date for planned schedule enrolments, it is also used to calculate expiry dates.

People page export to CSV added

Previously this was an export to TXT option in the bulk actions drop down, it's been replaced with a more user-friendly CSV option.

Trainer calendar filters

This filter has been added to make it easier to view an individual's activities when there are many trainers in the system.

Link to user manual added to the admin access page

The user manual has been updated with information on admin access and what is controlled by each setting. Clicking the help icon takes you to the page in the user manual with this information.

Technical & Design changes
Manage Awards
Query has been optimised to load the enrolments and filter more efficiently. This decreases load time significantly when the page holds many records.
Audit logging
Track session log outs – record the page, referrer and message when a user is logged out
Font Awesome
Introducing Font Awesome to drop down menus to improve performance, rendering and maintenance - in a transition phase so there is a little inconsistency right now. The following features/pages have been updated with font awesome icons:
Actions and Bulk actions on the People page
Actions and Bulk actions in the result manager Course schedules page
Actions and Bulk actions in the mark by individual page in the result manager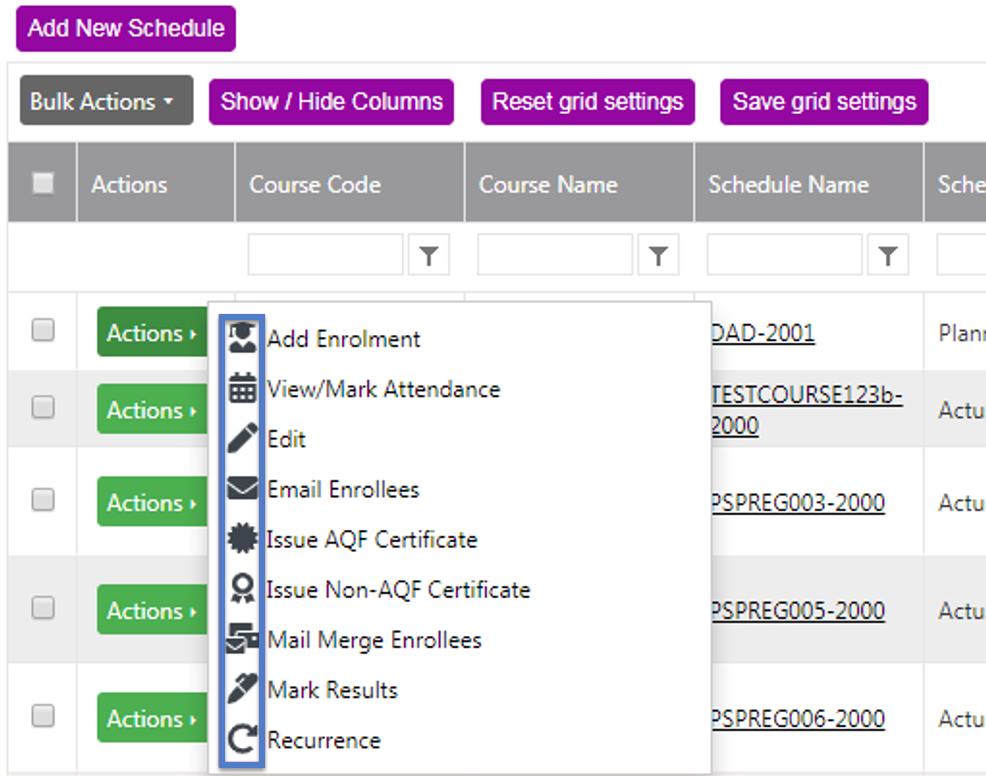 Menu Items
Menu items are now in bold when hovered (main menu)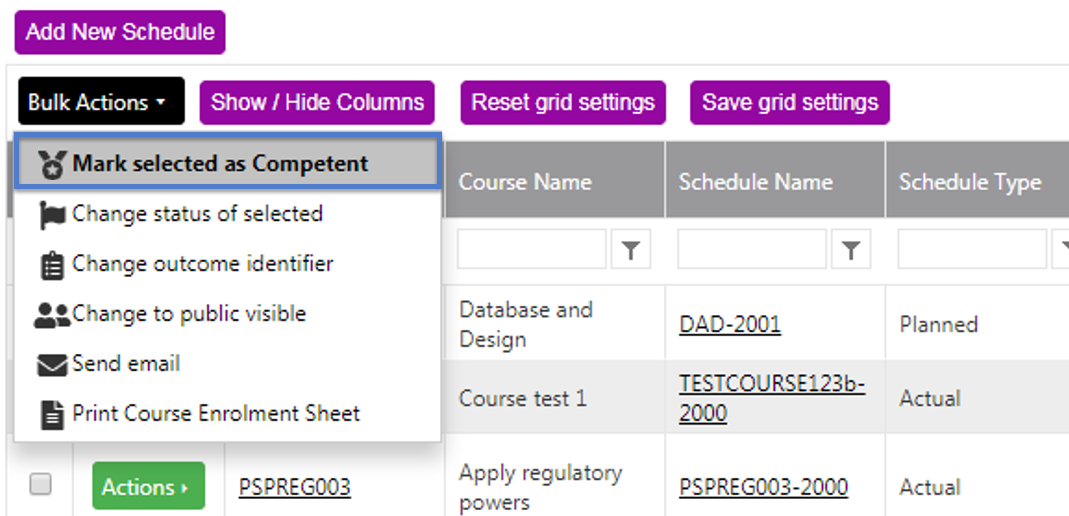 Bulk actions and actions sub-menu items
Have a background when hovered with 40% opacity of button colour.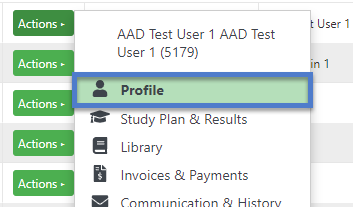 Consolidated the actions on the people page and moved filters to the left

Grid Upgrades
Elearning administration page, and Active holidays grids in Timetable settings have been upgraded for mobile responsiveness.
People page actions menu redesigned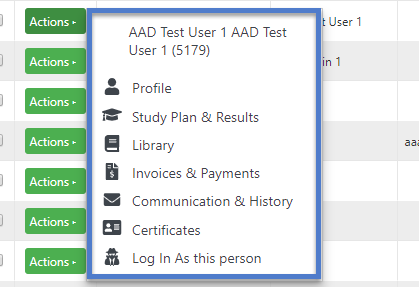 Hidden the Save Grid Settings buttons
These options are now available in the grid menu. Right click on grid header to see the grid menu. The page size will now also be saved when clicking save grid settings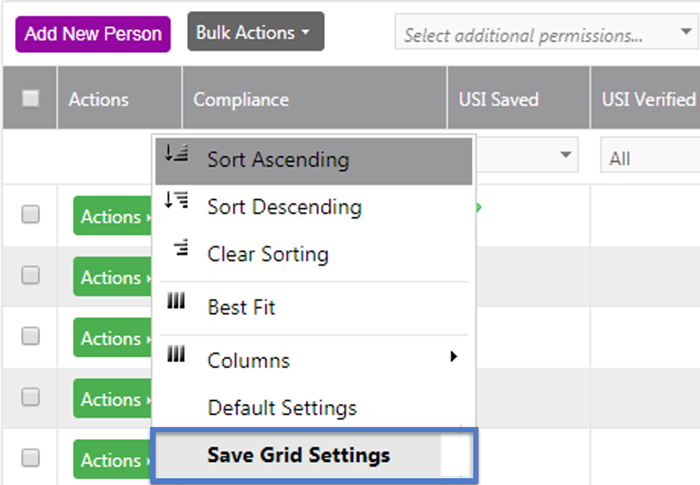 Student Library
The way documents appear in the student Library has been updated
There will be a folder created per course the student is enrolled in, and all other documents shared with the student will appear under an 'Other Documents' Folder rather than a 'Files' list.
Read about the Library changes here
Bug Fixes
The below bugs have been addressed:
Actions button in people list was cut off when filtered and showing one result.
Clear filter function not working on people page
Custom labels success message duplication
Oops page in trainer portal when option to view other trainer's tasks is enabled
The hover over to view 'created by' details in edit enrolment not showing
Deleting invoice line items throws oops page
Clicking customer in invoice edit took you to person edit page with company details – wrong page but correct data
Wrong tab showing content when validation fails in person's profile
USI columns show when compliance is not enabled
Course report expiry date column showing extra HTML tags
HTML text editors (Notes and description panels) not compatible with IOS devices
Web resources weren't recognising ':' in the URL when opened
When a doc is downloaded from the TMS it was adding + symbols to the downloaded document.
Unable to clear single name field once it had been set
Oops page when submitting annual leave request in trainer portal
Oops page when clicking menu item from finalise enrolment page
Warning showing as error when editing an activity
Event log pop up was showing when sending email to company
Activities not showing up for marking when expected
Course and schedule filters not working together in resource calendar
GST Column not populating correctly in the Invoices report
Hyperlink manager not adding the whole path of the file
AVETMISS options were showing when RAPT export option was selected
Notes
Our release notes do not detail every little change. We have only listed the fixes and improvements that are significant. Many more small fixes and changes are included in this release, such as button repositioning and rewording - not big enough to deserve a place in this note. If you have any queries or concerns or didn't see mention of a fix or improvement you are expecting, please contact our support team.
[1] If you have a UAT site this will be updated first and will need to be reviewed/accepted before your live site receives the update.